Just like creating a tracker, you'll start by clicking on your name at the top right hand side of the screen to navigate to your Personal Profile. You'll see your personal information on the left-hand side of the page and a list of "Your Organizations" or the organizations you belong to on the right-hand side of the page. Click on the name of the organization you created your tracker in.
You'll then be directed to the Organization Profile which should look familiar from creating a tracker. You'll notice a "Challenges" box on the right which lists all created challenges which belong to that organization. In this box is a blue Create a Challenge button. Click it.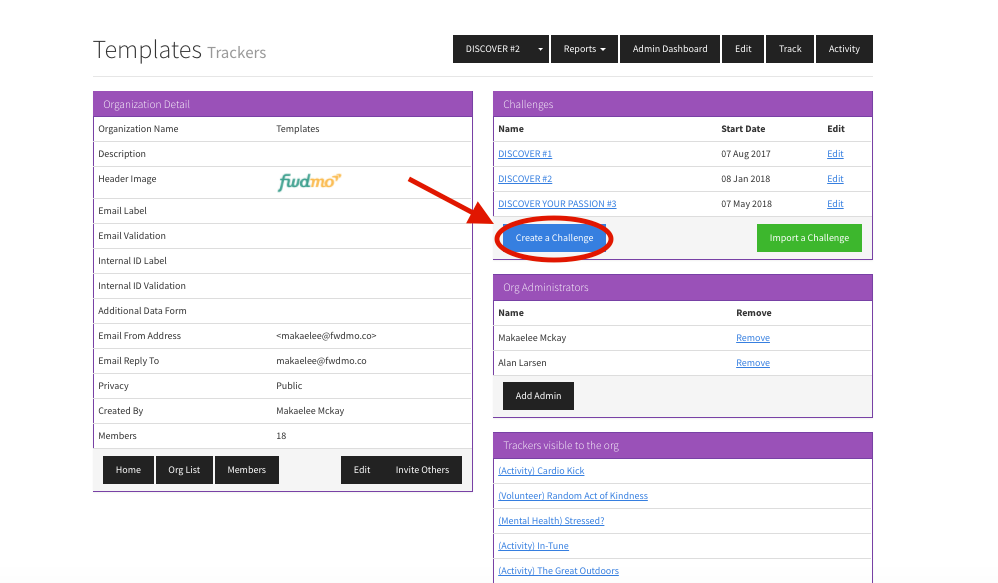 Challenge Set Up:
Challenge Membership Tracker

– This is where you can add any "Challenge Membership Tracker" you'd like to ask participants before they join a challenge.

Groups for this challenge- Based on participant responses to your "Challenge Membership Tracker" question, you can assign them to teams. This option is where you pick the question from the "Challenge Membership" tracker that you want the teams to be assigned from.

Multiple Trackers/One Tracker-

 If you want to use varying or multiple trackers for different goals, then you would want to select this option. This allows you to assign different trackers to different goals. If this is not selected, then you would use the same tracker for each challenge goal.

To select more than one tracker in the "Tracker" drop-down, hold down the CTRL or Command button and then select the needed trackers.
Be sure to assign the correct tracker(s) to its designed challenge. This is were descriptive labeling of trackers comes in handy.

Track Frequency-

 This allows the tracker to be logged in for the challenge once, hourly, daily, weekly, monthly, or yearly. For example, if the track frequency is set to daily, the tracker will be visible to the participants each day, and participants can report data each day. Daily is the most common choice of frequency.

Allow more than total value daily

(Not Recommended)? Regardless of this option is selected or not, a user can always come back and track or update multiple times a day, but if it's not selected it will show their old input and then they can update accordingly. If this is selected, it will record their first input and then when they come back, it will be blank and they can add another input and then the system will sum both together for a total value for the day. Usually this is not recommended.

Disable logging

– (previous day/week/when challenge ends) These options allow you to stop or lock in tracking after a certain period of time. You can select a day and time after which the tracking will be closed. This is a popular feature to help keep participants active in the challenge.

Creating Teams/Leaderboards-

 The creating team option allow members to create their own team or join a team upon signing up for a challenge. You can set limits of how many can be in a team. Leaderboards can be show on the challenge dashboard if selected. You can determine how many names will appear and if a winner is to be selected when the challenge finishes.

Challenge Privacy-

 There are two options for "Challenge Privacy":

Public​-anyone in the organization can search for and find your challenge.
Unlisted-​only those provided the unique link to the challenge can see and/or join it.

Inactive-

The "Inactive" option allows you to hide the challenge from your organization's challenge list. This may be a helpful option when you're working on and editing a challenge.

Challenge Goals-

 To start create a "Goal Name" that is a part of your challenge. The goal name will appear on the participants' challenge dashboard. (ex: Week #1 Steps, Overall Challenge Goal, Swimming, Running, etc.)

Create perimeters within the challenge with goal start date and goal end dates
This goal is considered complete when the _______ of [Automatically will fill in with the tracker you selected above] is _________ _________. This is where you can fill in you goal criteria or benchmark.
At the bottom of the page, you'll notice an Add Another Goal button. Use this option if your challenge involves multiple goals. For example, you might have a month-long challenge with weekly goals. In that case, you'd create four weekly goals and one overall monthly goal.

To finish creating your challenge, click

Save

.
If you are unsure about what any feature does, hover over the question mark next to the field for more information. If you want to create something that is outside of these instructions or are still unsure of how to get started please contract support@fwdmo.co for more help!